With over 30 years experience, Automated Valve & Equipment is an industry leader in valve controls and automation.
Industrial valves play an important role in most industries. Here are a few examples of their use:
Steel and chemical plants use valves for water, steam, hydraulic and air lines
Hospitals need valves for sterilization and the handling of fluids and gasses
Wastewater Treatment facilities use valves in the delivery of clean, safe water to industry and the consumer
Mines have valves to convey minerals and slurries
For the transportation of oil and gas via large piping systems , valves are essential to the extraction, refining and delivery processes
Machine and skid builders rely on valve technology, quality and durability to enhance their products
How Do Valves Work?

The fundamentals of any valve design relate to its sealing characteristics. This includes its ability to start and stop the flow of material thru the pipeline as well as its ability to safely prevent leaks to the atmosphere.
Proper valve selection is influenced by:
Line Pressure
Temperature : extreme heat and cold
Corrosive and abrasive qualities of media
External environmental conditions
Pipeline access
Now that you understand how valves work, let us help your business.
What We Can Do For You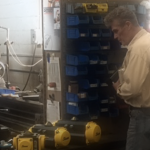 We have our own in-house valve actuation shop. This enables us to create customized valve automation solutions for our customers for any project. We carry a full line of electric, hydraulic and pneumatic valve actuators so you can complete your entire project in one place saving time and money.Here are a few examples of how we can help you on your next automation project.
Machine and install automation hardware on your valve to reduce your labor and overhead
Add limit switches to interact with your PLC
Connect filter/regulators to pneumatic actuators to prevent contamination of air channels
Install extensions or Safe Operator system on hard to reach valves to make them accessible
Add positioners to quarter-turn valves for modulating service
100% testing and traceability for reliability and repeatability
Our R&D team creates custom solutions to meet your special requirements
Why Custom Valve Automation is Important
There's no one size fits all solution. When you have a customized automated solution, you're investing in a solution which has been designed and built specifically for your company's application and goal. You won't get this with a selection from a maintenance supplier's catalogue.
You invest in reliability and lower cost of ownership. When you put our valve knowledge and experience to work for you, you get a valve assembly tailored to your application; one that will provide reliable performance. That means fewer headaches now and in the future.
Automated valves will save time. Valve automation will save you time, effort and resources. That's important for every business, no matter what industry. Why not see what it can do to improve your bottom line?
If you have any questions on valve automation or would like us to help you on your next custom valve automation project, click here to contact us or call us at (800) 962-5964.